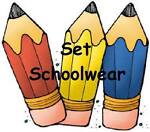 FOR ALL TELEPHONE ENQUIRIES
PLEASE CONTACT TEL - 01418890467
OPENING HOURS ARE MON - SAT 9.15AM TO 5.30 PM
ESTABLISHED SCHOOL UNIFORM SUPPLIER SINCE 1972
SPECIALISTS IN THE SUPPLY OF SCHOOL BLAZERS IN WOOL & POLYESTER A RANGE OF COLOURS & SIZES AVAILABLE
FREE BADGING SERVICE AVAILABLE FOR SCHOOL BLAZERS
Embriodered School Uniforms
Primary Schools Secondary Schools
Independent Schools Nursery Schools
To view your schools specific uniform simply select from tabs running to the left of this page.
If you can not find a particular garment or school then send your requirements via the contact page and we will endeavour to meet your individual requirements.
WE CAN OFFER NOW FOR ANY SCHOOL
BADGED PRIMARY SCHOOL POLOSHIRTS 2 FOR ONLY £12
BADGED PRIMARY SCHOOL SWEATSHIRTS 2 FOR ONLY £18
BADGED SECONDARY SCHOOL POLOSHIRTS 2 FOR ONLY £15
BADGED SECONDARY SCHOOL SWEATSHIRTS 2 FOR ONLY £25
IF YOU REQUIRE FURTHER INFORMATION ON THIS OFFER OR IF YOU REQUIRE THIS OFFER FOR YOUR SCHOOL PLEASE CONTACT US ON 01418890467
SENIOR SCHOOL TIES NOW IN STOCK FOR
SAINT ANDREWS ACADEMY (PAISLEY)
GLENIFFER HIGH SCHOOL - TRINITY HIGH
JOHNSTONE HIGH - CASTLEHEAD HIGH - SAINT LUKES HIGH
SAINT BENNEDICTS HIGH - LINWOOD HIGH
NEW GIRLS SUPER FITTED SHAPED BLAZER AVAILABLE
AVAILABLE BADGED OR BADGED/BRAIDED FOR ANY SCHOOL IN THE UK
INCLUDING:
EASTWOOD HIGH - MEARNS CASTLE - BARRHEAD HIGH - GLENIFFER HIGH
GRYFFE HIGH - SAINT ANDREWS ACADEMY - LINWOOD HIGH
RENFREW HIGH - WOODFARM - JOHNSTONE HIGH
SAINT LUKES HIGH - SAINT NINIANS(GIFFNOCK)
SAINT PAULS(GLASGOW) - SAINT BENNEDICTS - PAISLEY GRAMMAR TRINITY HIGH - PARK MAINS - LENZIE ACADEMY - KILSYTH
SAINT NINIANS(KIRKINTILLOCH) - KIRKINTILLOCH HIGH
BISHOPBRIGGS ACADEMY - TURNBULL - WILLIAMWOOD - ROSS HALL BELLAHOUSTON ACADEMY - SHAWLANDS ACADEMY
AND MANY MORE
IF YOU DO NOT SEE YOUR SCHOOL LISTED PLEASE DO NOT HESITATE TO CONTACT US ON
TEL: 01418890467 or e-mail: info@schoolwearscotland.com
FULL RANGE OF COLOURS AND SIZES
OF SUMMER DRESSES NOW IN STOCK
Banner Girls Summer Dresses Available
NEW FITTED SHORT SLEEVE REVER COLLAR BLOUSES
Introducing our new Onesies. Certainly the most snuggly idea right now in loungewear.
Onesies make a perfectly practical choice for chilling out, sitting back, playing and relaxing in as well as
being suitable for outdoors for the braver amongst you!These ultra-comfortable garments combine great styling with outstanding quality and value
whilst providing maximum PERSONALIZATION opportunities on all parts of this one piece suit..
The style comes in 13 vibrant colours so there will be a shade to suit every taste.
Childrens Sizes Ages 3-13
Introductory Offer Only £15
Adult Sizes Small - XXL
Introductory Offer Only £20
Personalization Service
Available
You Can Have Embroidered Personalised Name of Messages On
The Front & Back of the ONESIES.
SET SCHOOL WEAR ARE PLEASED TO OFFER A FULL RANGE OF :
Rainbow , Brownies & Guides Uniforms along with
Beaver, Cubs, Scouts & Explorer Uniforms
FULL RANGE OF SIZES IN STOCK FOR IMMEDIATE DESPATCH
PAYMENT METHODS
PAYPAL (via SAGEPAY)
SAGE PAY
OFFERING MAXIMUM SECURITY FOR OUR CUSTOMERS.YOU CAN ALSO SECURELY TELEPHONE YOUR PAYMENT AND ORDER THROUGH TO OURSELVES.YOU CAN ALSO POST US A CHEQUE. WE CAN NOW ACCEPT CREDIT AND DEBIT CARD PAYMENTS SECURELY THROUGH SAGEPAY.
PLEASE NOTE YOU CAN ALSO PAY SECURELY THROUGH THROUGH PAYPAL WITHOUT BEING A REGISTERED USER OF PAYPAL. https://www.paypal.com/uk/webapps/mpp/paypal-safety-and-security
We wish to look after our customers at all times. CUSTOMER CARE POLICY-IF AT ANY TIME YOU FEEL YOU HAVE ANY ISSUE AT ALL WITH YOUR ORDER PLEASE CONTACT US STRAIGHT AWAY AND WE WILL RESOLVE YOUR QUERY WITHIN 24 HOURS. CANCELLATION AND REFUNDS A FULL REFUND IS AVAILABLE AT ANY TIME BEFORE RECEIPT OF YOUR ORDER AND UP TO 28 DAYS AFTER RECEIPT OF YOUR ORDER